OriFlex® (origami folding of flexible reflective surface FlexRS®) is a proprietary technology of Large Space Structures GmbH for deployable reflectors based on our FlexRS® family of materials. It is designed for satellites applications, where volume is an expensive ressources and a large antenna reflector could not be launched, or would be too expensive. OriFlex® complements our other technologies of deployable reflectors, and focuses on small to medium size platforms – for reflectors of 0.5m in diameter for CubeSats, to 5m reflectors (and larger) for small satellites – for operation at L, S, C, X, Ku, Ka-bands and up to 60 GHz depending on the FlexRS® category used.
The first component of the OriFlex® technology is the folding of the reflector, inspired by the Japanese art of origami – literally paper folding. OriFlex® is therefore the art of folding flexible surfaces, which allows large antenna reflectors to be folded in very small volume, and deployed after the satellite is put onto its orbit. Origami only applies to the folding of flat sheets of materials, while antenna reflectors are doubly curved. Dedicated geometrical and kinematics methodologies had to be developped, contributing as one of the very first steps in the scientific field of doubly-curved origami folding.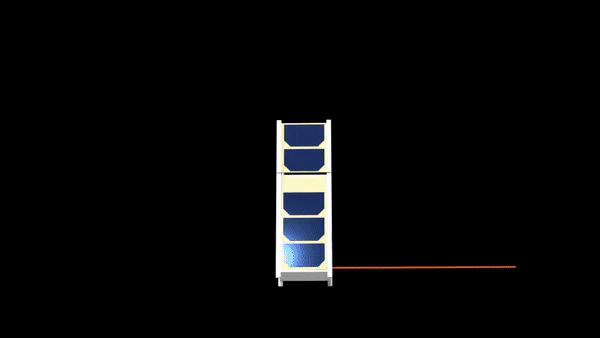 The second component of the OriFlex® technology are novel manufacturing technique, testing and characterisation procedures of the FlexRS® materials family specially tailored for origami-like folding. Indeed, an OriFlex® reflector that is stored for months or years before its deployment may experience relaxation (somewhat also incorrectly referred to as "creep"), where the folds may form creases and the panels may keep unwanted curvature. For this reason, the folds and the panels are carefully designed and thoroughly tested with bespoke testing methods.
The third aspect of the OriFlex® technology is to verify that there is no deterioration of the RF performances of the antenna system, whatever be the deformations that may result from folding and storage. This is done with numerical methods that accurately predict the behaviour of the origami reflector during and after deployment.
Building on our proven FlexRS® family of reflective surface and more than 20 years of research on carbon fiber reinforced silicone (CFRS), and even more in the fields of deployable reflectors, OriFlex® technology enables low cost, high performances reflectors for applications such as CubeSats and small sats for miniGEO, SAR imaging, mega constellations, and science missions.
Large Space Structures GmbH (LSS) is a company based near Munich, Germany, founded in 2013 as a spin-off of the Technical University of Munich where its staff had been working on deployable reflectors and advanced composite membranes for more than two decades. It inherited from its academic background a very strong R&D philosophy, still developing break-through materials and technologies in partnership with various institutional, industrial and academic institutions.
FlexRS® is a registered trademark for Large Space Structures GmbH family of RF reflective materials. FlexRS®-I are shell membranes based on Carbon Fiber Reinforced Technology (CFRS). FlexRS®-II are gold-plated, metallic meshes with their supporting cable network. FlexRS®-III are flexible shells based on CFRS technology, for use in deployable reflectors or reconfigurable reflectors. FlexRS® -IV explore special knitting techniques, and for use up to 60GHz.
OriFlex® is a registered trademark for Large Space Structures GmbH set of technologies related to the design and analysis of highly compact origami-based deployable reflectors based on its FlexRS® family of RF reflective surfaces.